Background image: Guatemalan cloth weaving
LTI 2023 Spring Gathering
Thank You for Joining us at the Latinx Thriving Initiatives Spring Gathering with Dr. Gina Garcia!
Dear community, 
Thank you for joining us at the Latinx Thriving Initiatives (LTI) Spring Gathering: Panel & Book Signing with Dr. Gina Ann Garcia on Thursday, March 16th at Anna Head Alumnae Hall on the UC Berkeley campus. We had a packed house! It was so good to be en comunidad, sharing laughter and soaking in so much brilliance–both on and off stage! We invite you to share your thoughts by filling out this survey. Your feedback and input is greatly appreciated to continue to co-construct our LTI gatherings. The survey should take no more than ten minutes to complete, and you will want to submit it all in one session. Your responses will be strictly confidential and anonymous. And if you captured any photos throughout the event, please share them here! 
For those who did not attend, you were missed! Here is a recap of that night: After welcoming folks, Vice Chancellor for Equity & Inclusion, Dania Matos, shared the latest LTI updates, including information on the Latinx & Democracy Faculty Cluster, LTI Implementation Team, and an invitation to join a LTI Implementation Workgroup. These workgroups will be in charge of implementing the 12 Short-Term Recommendations launched by the LTI Steering Committee and are open to all UC Berkeley students, staff, faculty, and alumni (hint, hint: please complete the nomination form by April 3!).
After the LTI Updates, Dr. Gina Ann Garcia walked us through her newly-released book: "Transforming Hispanic-Serving Institutions for Equity and Justice" Dr. Garcia reminded us that becoming a Hispanic Serving Institution is much more than a federal designation, it is about aligning our vision and purpose to transform institutions in a way that creates belonging and transformation for all. 
After that, Dr. Garcia joined a panel and was made complete by Dr. Élida Bautista, Chief Diversity Officer, Haas School of Business; Dr. Maggie Landeros, President, UC Berkeley Chicano Latino Alumni Association & Assistant Professor of School and College Counseling at CSUDH; Arlyn Moreno Luna, UC Berkeley Ph.D. Doctoral Candidate in Critical Studies of Race, Class, and Gender Program; and Dr. Kris Gutiérrez, Carol Liu Distinguished Professor, Associate Dean Berkeley School of Education. They inspired us with their insights about institutional transformation, what it means for us to become an LTI, growing the Latinx campus community, and so much more. 
Thank you for your continued support of the Latinx Thriving Initiatives centered in our people and ensuring Berkeley becomes a campus where everyone thrives. For more information about the Latinx Thriving Initiatives, please contact us at latinxthriving@berkeley.eduand opt-in for updates here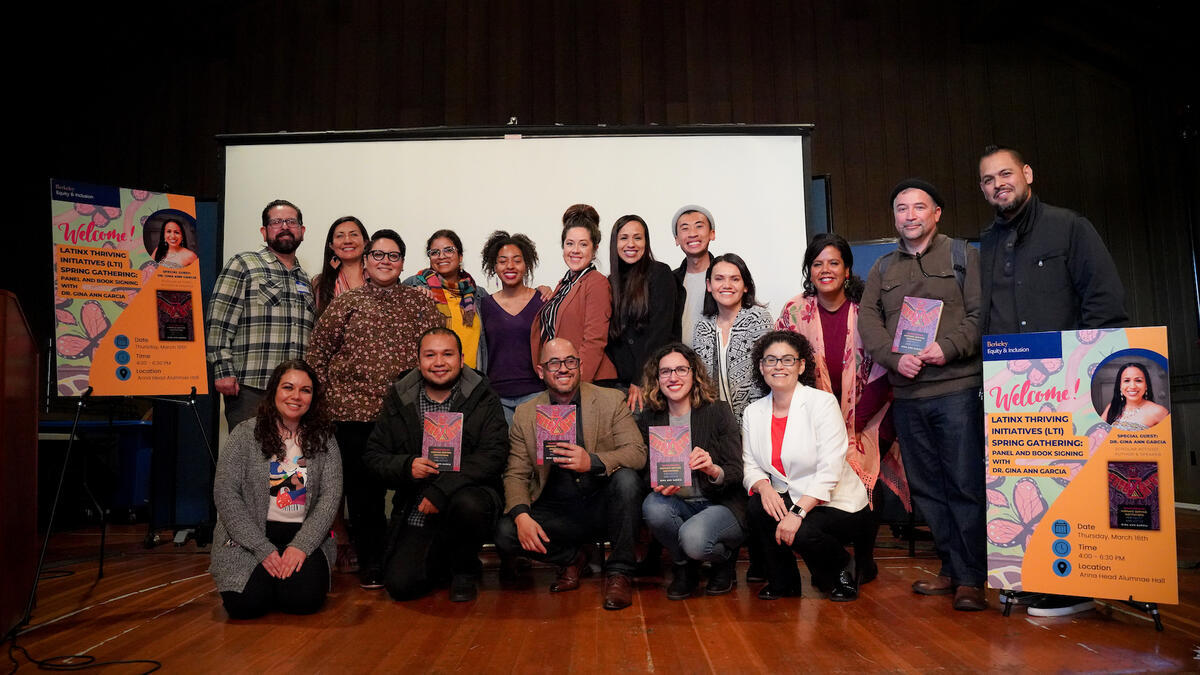 To become a Latinx Thriving Institution requires us to rise as one to ensure our deeds align with our words and our values and commitments.

Chancellor Carol Christ